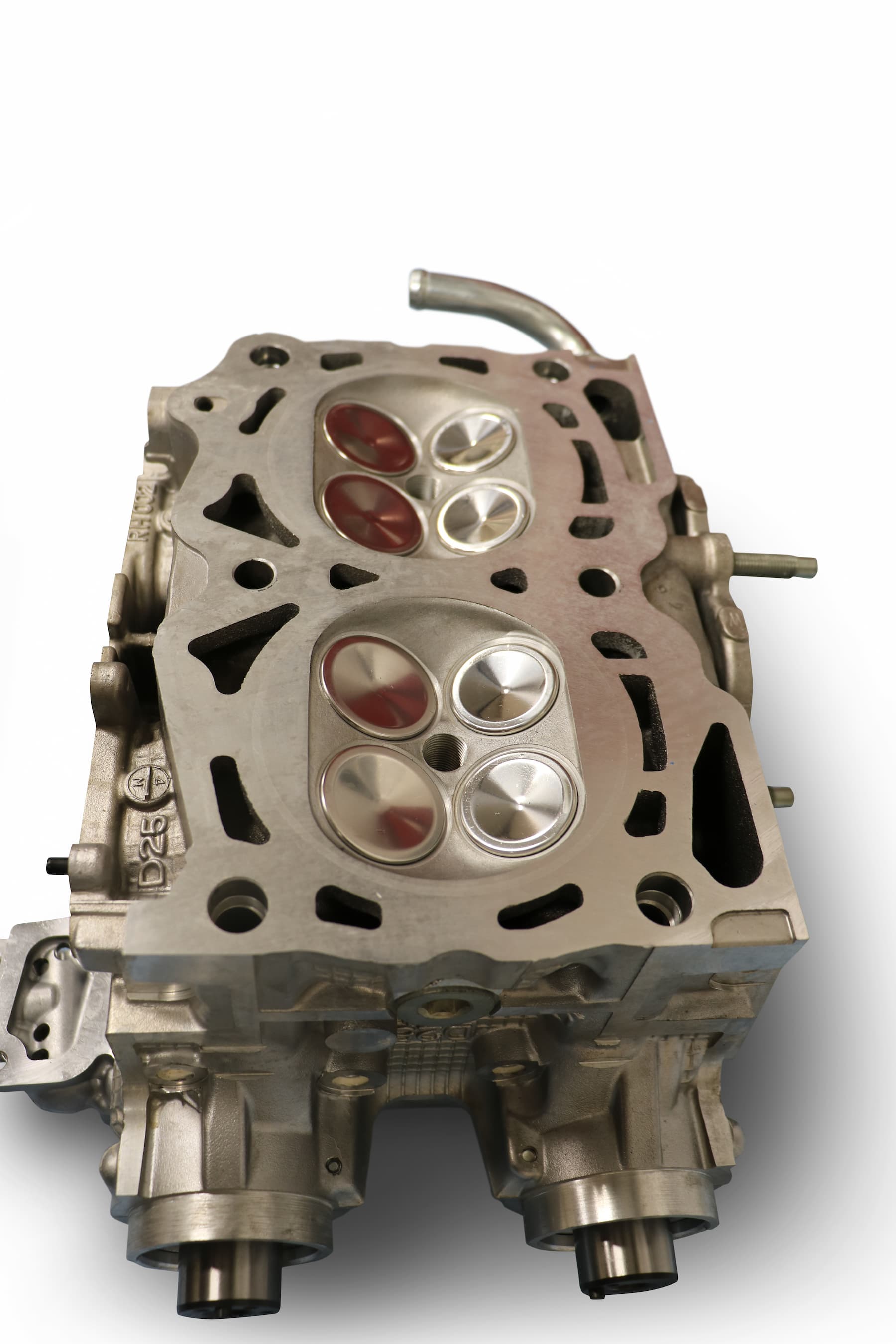 P2P Stage 2 EJ Head Dual AVCS
Product information
Description
Our Stage 2 head package matches beehive springs, larger lift/duration S2 cams, and a pocket port to maximize airflow without sacrificing driveability. These heads are far superior to stock heads and are made to last. The New OE castings are taken to our in-house machining center and the valve seats are cut with radiused multi-angle seat cuts that allow for maximum airflow, while retaining seat longevity. The porting is hand ported as this allows for the most precise flow matching capability. All castings shift slightly, and if a head is not ported by hand and tested, the results in each runner may vary if, for example, a CNC port without hand porting is done. The spring and cam combination is perfect for our stage 2 or stage 3 short blocks and their ratings. Our engine program has been proven time and time again on and off the track. We have countless race hours on these engines as well as millions of street miles that prove you can have the best of both worlds. We balance and blueprint everything in these engines. Our goal is to provide the customer, you, with entry to a level of engine building normally found in super cars and race teams. Our goal is your success, we are not afraid of any problem, and will assist you with any questions.
Additional details
Engine Highlights
Designed for up to 35psi, 750BHP and 8,500rpm
Brand New OEM Head Cores
GSC Billet Stage 2 Cams
GSC Beehive Springs with Titanium Retainers
GSC 36mm Stainless Steel Intake Valve
GSC 32mm Inconel Exhaust Valve
All New OEM Buckets
GSC Valve Stem Seals
P2P Spec Customer Multi Angle Valve Seat Cut
P2P Custom Hand Ported and Bench Flow Tested Pocket Port
Bench Lashed and adjusted, ready for installation.
Why Choose our Stage 2 Head Package Over the Competition? All machining, cleaning, and assembling are done by a degreed engineer. We provide a level of artisan craft in our engines only found in race teams and super cars. The experience we bring to our engine program is unparalleled in the industry. We blueprint the entire assembly of the motor to within .0002 of our specs. It is incredibly important to balance your motor to increase the life of your bearings. It is highly recommended to run a Fluidampr/ATI crank pulley or OEM. Do not run an aftermarket solid crank pulley. All of our inspection equipment is high quality, either from Starrett or Mitutoyo, and is sent off yearly for calibration to a qualified cal-lab.